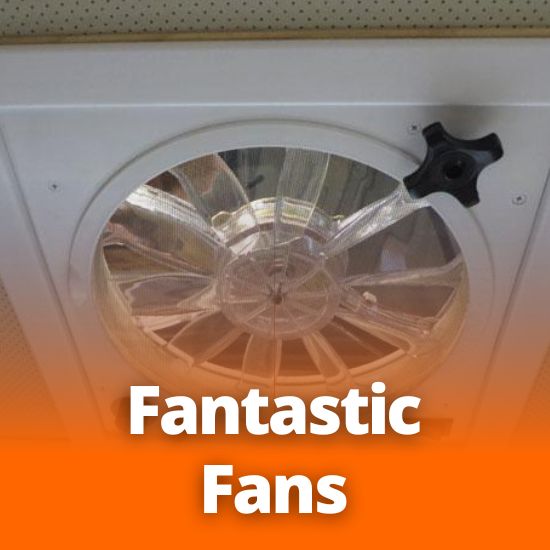 Note: We are unaffiliated with any products/companies in this post.
You've seen this name capitalized before which, if you remember your basic elementary English class, implies that it is a name – so what exactly is a Fantastic Fan? (besides really good branding)
Sold by Dometic since 2017 (previously by Atwood Mobile Products before being acquired in 2014) is an addition to any RV, and oftentimes comes factory installed these days, to improve air circulation, temperature, smell, and reduce moisture build-up. An absolute must when it comes to avoiding long-term damages such as delamination – check out why here
On Amazon, it's one of the most popular and well reviewed vent fans available, with most listings between a 4.2-4.5/5 rating. According to Dometic's website: Each unit is built to operate quietly, with lightweight, high-quality, and durable, UV stabilized materials. 
How does it work?
Each Fantastic Fan model is a high-powered vent fan with adjustable speeds that can exchange almost 1,000 cu-ft of air per minute. It runs off the 12V DC system in your RV, which is awesome if you're boondocking or otherwise unable to connect to power, so you don't have to run your A/C all the time. It only uses about 3 amps of power when operated on high, and as little as 1.86 amps on low. 
Use one as a ceiling fan by leaving the vent closed while it runs so you still get that air movement even if the weather doesn't lend itself to leaving the vent open. Models with a reverse control allow stale air to be pushed out or fresh air to be pulled in from outside. And using any fan in the bathroom or kitchen helps reduce unwanted smells from lingering.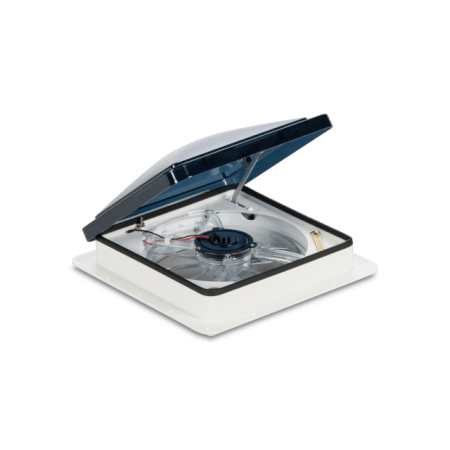 There's a variety of models available, some manual with a hand crank to open and some electric that have a wall control installed or a remote. Some come equipped with a thermostat (such as the 3350) that helps maintain a set temperature by controlling when the fan turns on and off. There's also the 7350 with a built-in rain sensor that is meant to close the cover when it senses rain or snow (however, as we've mentioned before in our Dumbest Mistakes post, maybe don't 100% rely on that to be safe). 
One drawback is that they don't come equipped with a rain cover automatically, so if you want one you'll have to buy it separately. They also only have a single support arm which can be less sturdy during high winds. 
Aside from RV parts shops you can buy them on Amazon and through their company website, although prices vary from $400-$800+ depending on model and merchant. 
Of course, it's not the only fan on the market, and we'll go through some of the other options out there in the future. 
Are Fantastic Fans your own go-to, or have you found a different model that you prefer?