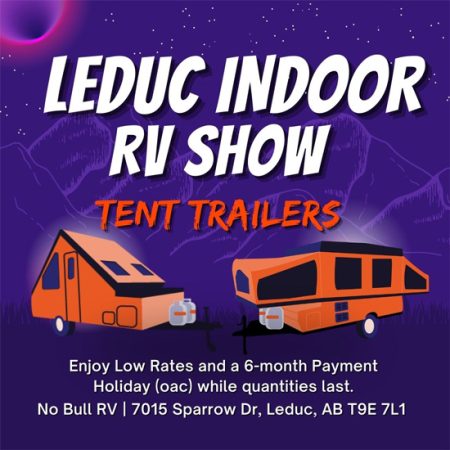 There is no time like the present and no present..
If you're considering a visit to RV Wars or Edmonton RV show in search of a tent trailer…
Why not do something special for your family this year and give them something to look forward to?
Adventures with you. Hiking, biking and fishing… together.
Chopping wood, building campfires and winding down after a full day of fresh air.
There's something special about those times.
Precious family memories they'll cherish forever.
Owning a tent trailer is an ideal way get out and explore this great Alberta we love.
They're easy to tow, easy to set up and come with all the convivences you'd expect.
You can come see them right now on display indoors at our Leduc store on Sparrow drive.
We've arranged low interest rates and even offer a 6-month payment holiday if you choose (oac).
Heck, we can even store it for you till spring if you like.
Bring the kids along, pick one out and start planning your journeys.
Because when it comes to bonding, there is no time like the present and no present like time.
Mon-Sat 9:00 am – 5:00 pm Until Quantities Last
Phone: +1 855-685-8900
7015 Sparrow Dr, Leduc Alberta T9E 7L1
Fully Bonded and AMVIC licensed