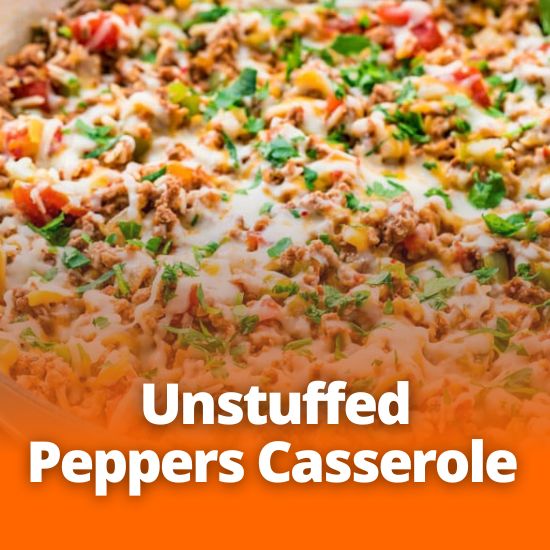 Unstuffed Peppers Casserole
Approx 8 servings
This casserole is great for a crowd and includes all the essentials of proteins, veggies, and grains for a healthy and satisfying dinner that can come together in less than an hour!
Equipment:
9×12" baking dish
Large, deep pan for cooking
Neutral oil or non-stick spray for greasing
Ingredients:
5-6 peppers diced (whatever color(s) you prefer)
½ cup minced carrots
½ cup minced celery
1 lb ground beef or pork
¼-½  pound pancetta or lightly smoked bacon, diced small
2 cups prepared marinara sauce
¼-½ red wine
½ -1 tsp red pepper flakes (increase or decrease for preferred spice level)
⅓-½ cup heavy cream
2 cups cooked rice
2 cups grated parmesan cheese, divided
Instructions:
Preheat the oven to 350°F; while you won't be cooking anything in the oven this means you won't be putting your dish into a cold oven before broiling.

Put a pot on medium heat and saute your pancetta/bacon and remove once cooked. Reserve about a tablespoon of the bacon grease OR use 1-2 tablespoons of neutral oil for the next step. 

Add onion, carrots and celery to the pot and saute until soft. If you see your veggies are sticking to the pan add a teaspoon of neutral oil. 

Add ground beef and saute until cooked and there are no raw bits left, add your diced peppers and saute until softened.

Add all other ingredients

but rice and cheese

and cook until it reaches a slow boil, about 5 minutes. 

Turn heat off and stir in 1 cup of your cheese and your cooked rice. Simmer for another 10-15 minutes until the liquid has reduced and you can pull a spoon or spatula through the mix without liquid rushing into the empty space.

Spray a 9×12″ dish with non-stick spray or oil and spoon mixture in, spread it out evenly. 

Switch your oven to

broil

, then top the casserole with the remaining 1 cup of cheese and put in the oven for 2-5 minutes (this will depend on the intensity of your broiler) until the cheese is melted and slightly golden brown in spots. Watch carefully to prevent burning. At this point everything should be fully cooked so you're just looking to melt and blister the cheese. 

Let cool for about 5 minutes and enjoy!
Notes:
This recipe keeps well in the fridge for 2-3 days. Remember certain food safety standards will differ on store time of cooked food.