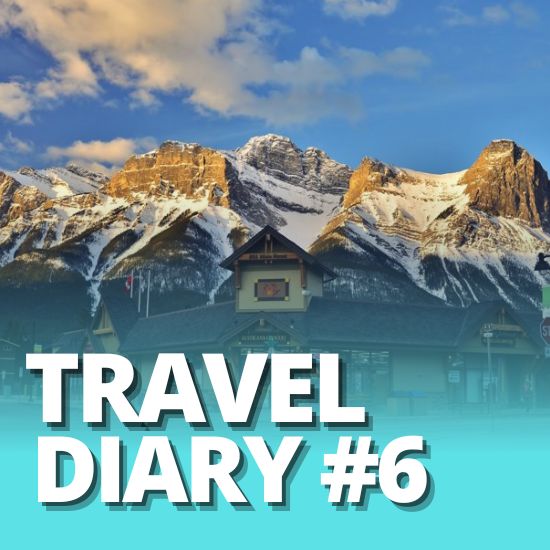 Travel Diary 6 - Mountain Town Experience
We successfully survived crawling around underground! Somehow, I didn't miss my first alarm which was shocking let me tell you. Meg had already started the kettle so I was able to uncurl from bed to hot tea almost immediately. We talked about hitting the Grotto Canyon Trail hike today but we're going to hold off on that until tomorrow to rest our poor aching bodies (I kid, but we definitely have a few bruises from clambering around rocks and my hands are particularly stiff). Instead, we're going to take our time and laze around town, do all the touristy stuff.
~
Alright if I'm being honest, I could live in the mountains. We're staying at a campground a bit outside Canmore along highway 1, and the traffic isn't super fun but it's become background noise pretty fast. But I would endure the loudest of semi-truck traffic sounds for the views alone! Just walking down the streets of Canmore is making me eager to get to Banff, but this little mountain town is no slouch in the scenic department. It's meant to be explored by foot; sure there are some cool scenic driving tours and routes you can take but the town itself? Walking all the way baby (or rolling, it's definitely bike friendly…also great accessibility options I noticed, just as an aside…god I sound like I'm being sponsored by Canmore tourism).
Anyway, at continued risk of sounding like an overly caffeinated tour guide who's working for college credit and little else: Canmore has awesome biking and walking paths, but that wasn't what we focused on. We drove in from our site and found a free public parking lot, just managing to get a spot, but it's honestly faster and easier to walk around. Plus, you risk missing some of the cool little elements of town while driving.
Take, for example, the Touchstone statue by Peter Powing. You can sort of see the tip of it when you're driving down Railway Ave, but because it's in the center of the Elevation Place courtyard, you can only get a good look if you walk up to it. Or all the "graffiti" pieces around town on junction boxes and stuff? You catch glimpses from a car but if you want to actually see them as more than part of the background you have to take your time and walk. I know that's not everyone's cup of tea but we loved being able to point those things out to each other. My personal favorite is Underground, a set of installed, cut metal pieces that read out a poem by Katherine Govier, while Meg's is the honeycomb utility box across from Elevation Place painted by Lesley Russell.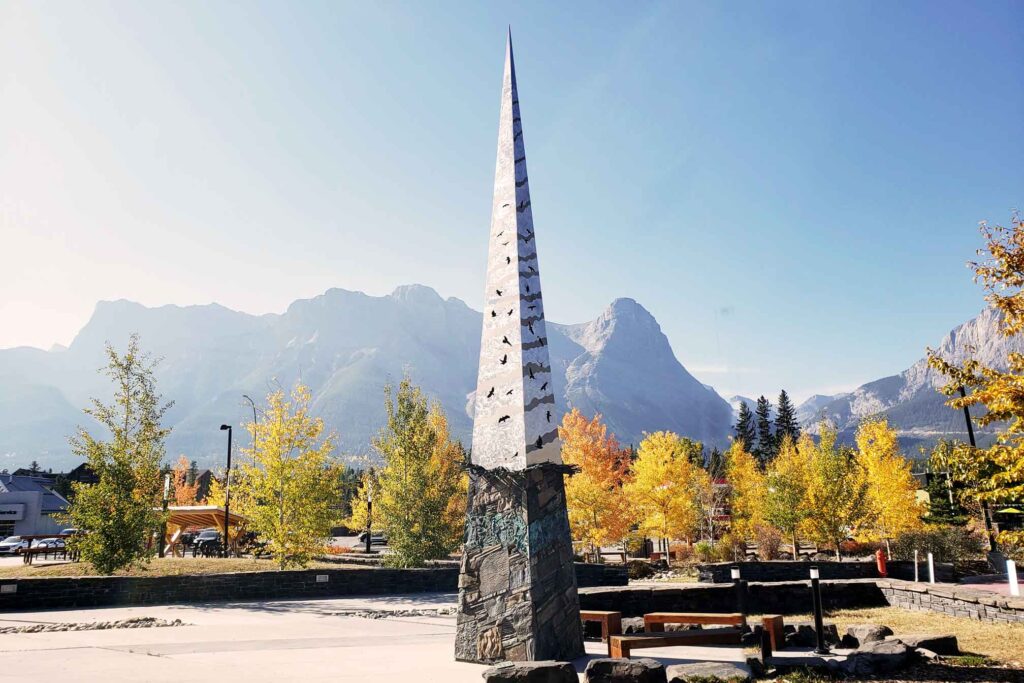 We also checked out the Carter-Ryan Gallery for a more "organized" display of art. That gorgeous little hall of local Canadian artistry pops with bright colors, scenic vistas, and even hosts live performances sometimes (although sadly we weren't around for one of those). It was an incredible way to work the mind after a day working our bodies.
We spent the rest of our sunlit hours traipsing around, hit the Rocky Mountain Flatbread Company for lunch, and strolled downtown to do some shopping. One can never have too many commemorative hoodies after all. 
It was nice to just soak in the sun and fresh air throughout the day, we even grabbed a coffee (and a Beavertail of course) and walked along the Bow River before hitting the Grizzly Paw Pub for dinner. I've been going there ever since I was a kid on family ski trips, they still make a mean fish and chips. No regrets and the forecast calls for rain tomorrow, so I guess we'll see what happens.