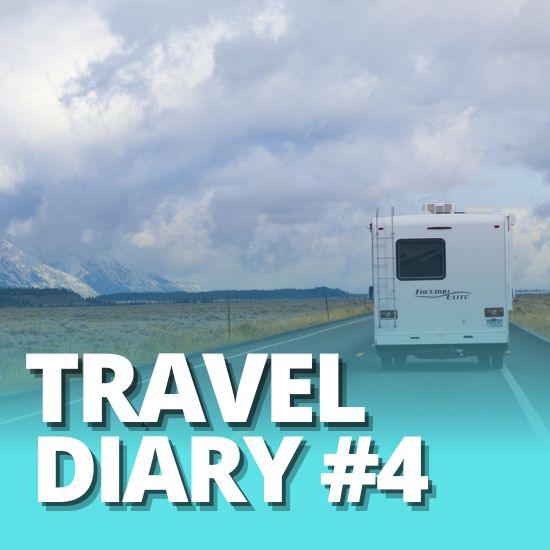 Travel Diary 4: Westward Bound
Left Drumheller early this morning and ate sandwich leftovers for breakfast as we hit the highway. We found an old 80s/90s playlist on Spotify and downloaded it and played a game of Name the Artist as we drove (I won with my ultimate knowledge of 90s boybands and Britney Spears). With our roundabout route decided as we head west, we got to Beiseker before noon just to grab a few things and take a picture of their town mascot the 'Friendly Skunk Squirt.' Added the polaroid to the fridge next to the Giant Dinosaur from Drumheller. 
I will say the great benefit of a motorhome so far has been the easy access to the kitchen and everything else in the rig without needing to stop (well, when safe anyways). Being able to tow a car is nice, although we've had to be careful to remember not to back up with it – I've heard too many horror stories about people busting the axle or steering on their accessory vehicle because the tires turned past their allowance. 
I have decided I'm going to get someone to bring my car up to me when I pass back through Alberta – or maybe even meet us when we get into BC, we aren't too far west yet – it's way too convenient being able to drive around while leaving Winnie parked. I'd considered it but hadn't thought past having Meg's vehicle before we left. Definitely something I would do differently next time. I see the benefits of a trailer for this, you always have access to a vehicle that isn't your home. Still love Winnie, but I can see for others how that might be something extra they would want to consider. Like I said, there's a huge benefit to not having to stop to get something from the rig. Meg was actually able to grab her laptop and work at the dinette while we drove for a bit.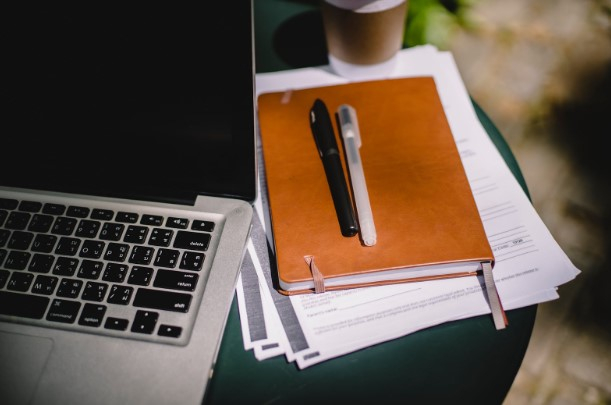 Overall, the experience so far has been great – not without its challenges (does anyone really like dumping their black tank? Gag) but definitely worthwhile. Even though we haven't gone far we've already seen so much more of Alberta than we have just going up and down Highway 2 all our lives! 
Besides the travelling though, I haven't really touched on our cooking experience so far; we've made a few run-ins to Timmies and Starbucks which we'll do less of going into BC, but we've cooked all our actual meals in the camper so far. Mostly we've done one-pot recipes to save space on the stove. We made pizzas over our fire one night in Drumheller and the outdoor kitchen was really useful for assembling everything. In the past we would have either done that inside, or by awkwardly balancing plates on our laps. There's something to be said about learning the art of dressing a hot dog by a campfire on a paper plate, turns out those skills have come in handy!
(note to self, buy a small folding table at Walmart as we pass through Airdrie) 
I have an ongoing list of recipes to make once we start doing more fireside cooking. I have my old tried and true cast iron skillet and Dutch oven, they've never steered me wrong! We plotted out meals for each day so we know what we have on hand, and when we'll need to stop for groceries. Most of the campsites we're stopping at thankfully have wood available for purchase so we don't have to worry overly much about keeping stocked. Some sites are definitely overcharging for firewood, so I've got an old Costco bag to store any we don't use to take to the next site. Waste not, want not after all. 

Our final destination today will be Canmore where we plan to spend a couple nights. There's some awesome tours and sites in the area, and they can be less busy than Banff. There's one thing in particular I'm really looking forward to; I'll give you a hint: We're not going up a mountain.