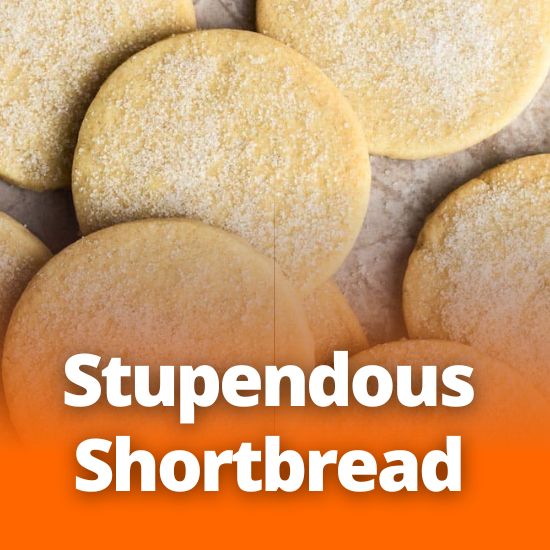 Eggless, quick and easy while staying light with a touch of sweetness – perfect for tea time. The number of cookies this recipe makes depends on the size of cutter you use.
Equipment:
Large and medium mixing bowls

Electric mixer or spoon to mix

Measuring cups and spoons

Cookie sheet and parchment paper to line

Rolling pin

Plastic wrap

Cookie cutters of choice (can also use glasses) 
Ingredients:
1 cup unsalted butter, room temperature

½ cup white sugar

2 cups all-purpose flour

¼ tsp salt

2 tbsp milk

1 tsp vanilla extract
Instructions:
In a large mixing bowl, cream butter and sugar until light and fluffy. Using a hand mixer can make this process faster.

In the medium mixing bowl, mix flour, baking powder and salt. Add the flour in 3 parts, mixing after each addition and scraping down the sides as needed.

Add milk and vanilla and combine.

Once fully combined, separate dough into two and press into discs roughly ¼ inch thick (this will make it much easier to roll out later). Wrap each disc tightly in plastic wrap and chill in the fridge for 45 minutes to an hour.

Before you begin to roll out your dough, preheat your oven to 350°F.

On a clean work surface, roll out your dough – lightly flouring the surface and your rolling pin as needed to avoid sticking. 

Roll your disc to about ⅛" thick and cut out as many cookies as possible. If you don't have cookie cutters, use the top of a glass (lightly flouring if you notice the dough sticking). 
Combine leftover dough back together, rewrap in plastic and place back in the fridge while you roll out the second and continue to alternate. This helps the cookies keep their shape while baking.

Bake cookies on a parchment lined baking sheet for 10-15 minutes until the edges become a pale golden brown. Allow to cool slightly on the tray before they finish cooling on a wire rack (if possible).