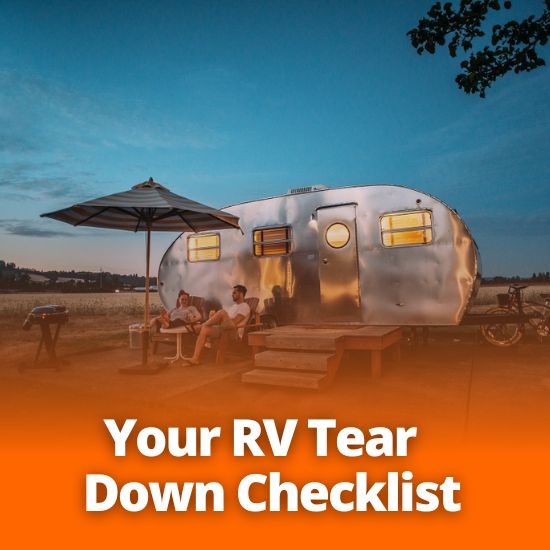 Your RV Tear Down Checklist
Still trying to figure out where to begin when tearing down your site? We've got a quick and simple list here for you to go through to help you get organized. 
The Day Before You Leave:
Tear down/bring in any outdoor furniture like chairs and rugs

Close gray tank valve (if open) 

This should allow for enough water to build up to help rinse your hose after you dump your black tank 
Prior to Leaving
Empty black tank

Use disposable gloves when connecting and disconnecting your sewer hose

Sani-flush (if needed)

Empty gray tank

Add fresh water (if needed; this will be up to preference and where your next stop is, but it's a good reminder either way to check your water levels before you leave)

Check for potential obstacles inside and out before retracting slides, awning, and stabilizers

Secure anything that could slide or break inside your rig

Close and latch doors/vents/windows/fans, ensure your water pump is off.

Retract slides and awning

Disconnect from water and electrical 

Remember to check that the electrical panel is OFF when connecting or disconnecting the power!

Retract stabilizers 

It is crucial to do this before you raise the tongue jack because if your rear stabilizers are down and you raise the back you can break your rear stabilizers 

These may be manual or require power. 

Check to make sure all exterior doors are closed and locked; stairs and rail folded away and secured

Connect your tow vehicle 

Remove chocks

Check tire PSI and wear pattern inside and out

Walk around (this is when you double check everything is secured and disconnected)

Be sure your tongue jack is raised and your vehicle and rig are connected properly 

Check tire PSI of towing vehicle [with TPMS]

Check trailer brakes and lights
*Reminder that your RV may include other elements that you will have to check to ensure the safety of yourself and others as well as your equipment. Use this list at your own discretion and risk.