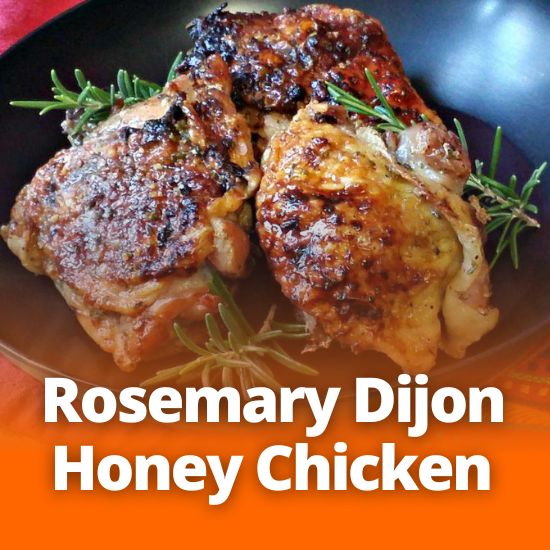 Rosemary Dijon Honey Chicken
Great with a side of rice and the veggie of your choice, this is a quick and delicious recipe sure to please anyone!
Equipment: 
Dutch oven OR large pan
Knife and cutting board
Ingredients:
3-4 chicken breasts, cut into thick strips or use tenderloins

⅓ cup (approx 5 tbsp) grainy Dijon mustard

¼ cup (4 tbsp) smooth Dijon mustard

2-3 tbsp honey (adjust to taste)

1-2 tsp dried rosemary or 1 small bundle fresh rosemary

2 mediums onions, sliced julienne (that is, in strips)

Olive oil or other cooking oil (olive oil will add its own flavor)

Juice of a large lemon (about 2-4 tbsp)

2-3 cloves garlic, minced

Salt and pepper

⅓-½ cup water 

Yellow mustard (optional)
Recommended sides:
Rice

Roasted broccoli, asparagus, or green beans 
Instructions:
In your Dutch oven, cook the onions in a couple of tablespoons of oil until softened and starting to brown, about 10 min.

Add chicken when onions are partially cooked, season with salt and pepper and saute until cooked through. 

Meanwhile, mix all the sauce ingredients together in a bowl. Add only half the water at this time.
Start with only a tablespoon each of lemon juice and honey. Taste and adjust according to your preference; if you like more acidity add more lemon, more sweetness add more honey etc. Optionally, add a teaspoon or so of yellow mustard if you want more mustard flavor without the spice from the Dijon. 
The larger the pan you use, the more water you probably will need. Just make sure you add a little at a time!
Pour your prepared sauce over the chicken and onions and stir so everything is fully coated. If you find your sauce doesn't cover everything add more of the water and stir thoroughly. 

At this point you can partially cover and let it cook on the stove or over coals OR place in a preheated 350° oven, until the sauce has thickened, about 15-20 minutes, stirring occasionally to avoid burning. 
Notes: 
You may marinate the chicken in the sauce the night before you plan to cook it for extra flavor if you like. 

Yellow mustard has a more mellow, tangy flavor than Dijon which has a bit more spice – many won't notice the difference however so this is personal preference.
(recipe adapted from mattersofthebelly.com)