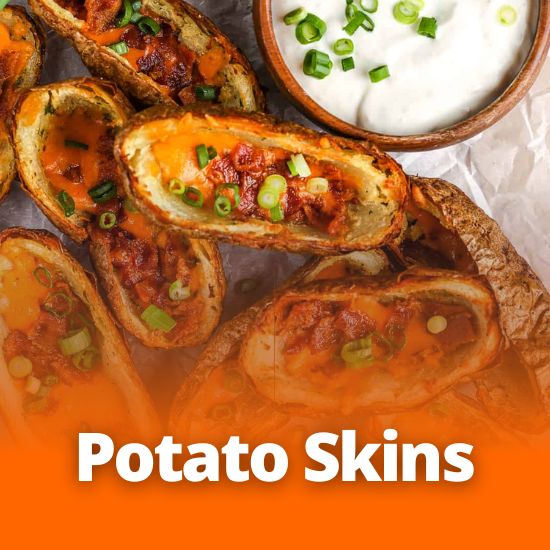 Bring the ultimate bar food to camp! Potatoes, cheese, what's not to love?
Equipment:
Cast iron skillet

Tin foil (for baking)

Small bowl(s)

Knife & cutting board
Ingredients:
4-6 small baking potatoes

2 tbsp unsalted butter, melted

¼ tsp garlic powder 

½ tsp fine minced fresh parsley OR ¼ tsp dried parsley

1 cup shredded cheddar cheese

3 tbsp bacon bits, homemade or store bought (about 3 slices of cooked bacon)

2 tbsp small diced chives or green onions, to top

Salt and Pepper, to taste

Sour cream, for topping
Instructions:
Scrub your potatoes completely clean and pierce each with a fork about 5-6 times around. Wrap them in foil and either bake in a preheated 425°F oven for 40-50 minutes, or over the fire until they are cooked and tender all the way through when you pierce them with a fork or knife. 

Let potatoes cool enough to handle before cutting them in half lengthwise. Use a spoon to scoop out the flesh, leaving a ¼-inch shell (any less and you risk the structural integrity)

Save the scooped out potato for later to make into mashed potatoes or potato pancakes! 

In a small bowl, combine your butter, parsley, and garlic powder. Coat the inside and outside of your potato skins and place them cut side down on a well oiled cast iron skillet.

Place your skillet over indirect heat over your fire or on a grill. Cook for about 20-25 minutes or until the skins turn golden brown, flipping halfway through. 

Once the shells are crispy, fill the well of each potato with cheese, bacon, and optional green onions or chives. Return to the heat and bake until the cheese is melted and bubbly (you can tent your skillet with foil if you don't have a lid to speed the process along). 

Remove from the heat and top with sour cream to serve. 

You can also reserve the onions and top after the cheese has melted.
(Recipe adapted from Spend with Pennies)