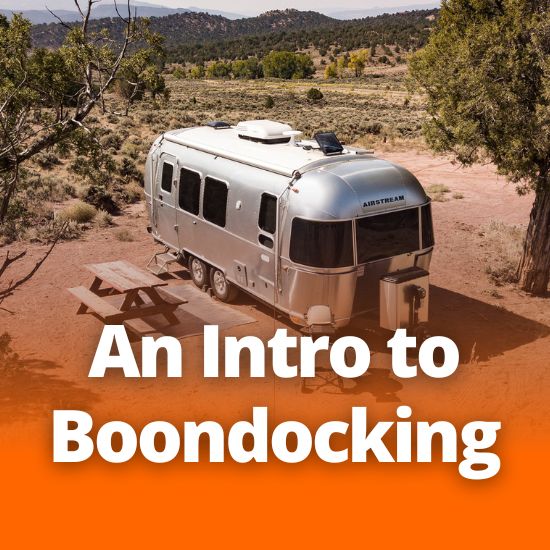 Feel like revisiting a simpler, quieter version of RVing? How about you try out boondocking on Alberta's Crown Lands? No hookups, fewer costs, sporadic to nonexistent neighbors – but a lot more planning. I guess you could interchange it with "dry camping" but that usually just means you're at a campground without hookups (or a parking lot), while boondocking is (traditionally) done without a designated site. So you won't have access to dump sites, bathrooms, or other typical camp facilities. You might on occasion choose a boondocking campsite with vault toilets, water stations and dumpsters (these aren't Crown Lands sites typically)- but don't count on it. 
On the plus side, this means that boondocking is way, way cheaper. FTo camp year-round on public land from the Eastern slopes of the Rocky Mountains from Grande Prairie to Waterton Lakes National Park, you'll need a Public Lands Camping Pass | Alberta.ca, which as of October 2023 is $30/person for the year (and only for campers 18 and up), or $20/person for 3 days. If you're a die hard boondocker, go for the annual pass. 
Crown Lands
Crown Lands are conserved, wild areas that provide a haven for wildlife, natural resource conservation (such as fresh water), while also remaining spaces for public recreation. Currently, 60% of Alberta's land is made up of Crown Land. 
The term can be interchanged with Public Lands (PLUZ – Public Land Use Zone), but doesn't differ in meaning. Crown Lands are "owned" by the citizens of Alberta, and managed by provincial and federal government bodies. 
You can check out seasonal maps of different land use areas here Livingstone Public Land Use Zone – Open Government or here Camping on public land | Alberta.ca 
Alberta has specific guidelines for Crown Land camping and use, to minimize environmental impact and maximize the ability of present and future campers to enjoy it!
You need the appropriate pass for your location (either a Public Lands or Kananaskis Conservation Pass)

You are required to follow government signage (this communicates safety and environmental risks, as well as area specific information).

Only temporary structures are allowed – this means tents and campers only

Your stay must be limited to 14 days in one location. Afterwards, you must move at least 1 km away and remain there for a minimum of 72 hours. 

Your campsite must remain tidy, with proper precautions taken to keep food away from animals. So no leaving trash outside, it must be in a locked container or vehicle.

Pets are to remain in control at all times, this means on a lead. Their recall ability doesn't matter when there are any manner of new scents and sounds. This is for their safety and the preservation of wildlife (and remember to clean up after them!)

You need to park on firm ground, such as gravel or rocky surfaces to prevent damage to the soil. And as a courtesy, should you be within the same area as any neighbors, always leave adequate space between their camp and yours. 

Choose your spot with care. You can't camp within 100m of any body of water, must stay aware of industrial sites (oil wellheads can release toxic gasses) and watch for animal trails which are indicators of natural wildlife. (Avoid berry patches as these attract animals, particularly bears).

Never leave an active campfire unattended. You'd be shocked by how many idiots there are out there who don't practice proper fire safety. These idiots (if they don't die) usually end up paying quite the ticket price ($100,000 and/or up to 2 years imprisonment). Fully extinguish your fire before leaving camp for any amount of time, and keep a bucket of water or extinguisher nearby in case of a flare up. 

Be aware of fire bans in your area. These will be issued in cases of high fire risk due to dry conditions. Check the Alberta Fire Bans website for up to date info.
Always adhere to the tenants of Leave No Trace.

 But the short version is: leave the area like it was never touched at all. 
Campendium is a great site for helping you find a campsite and can help you find cheap camping whether you're boondocking or going full hook-ups!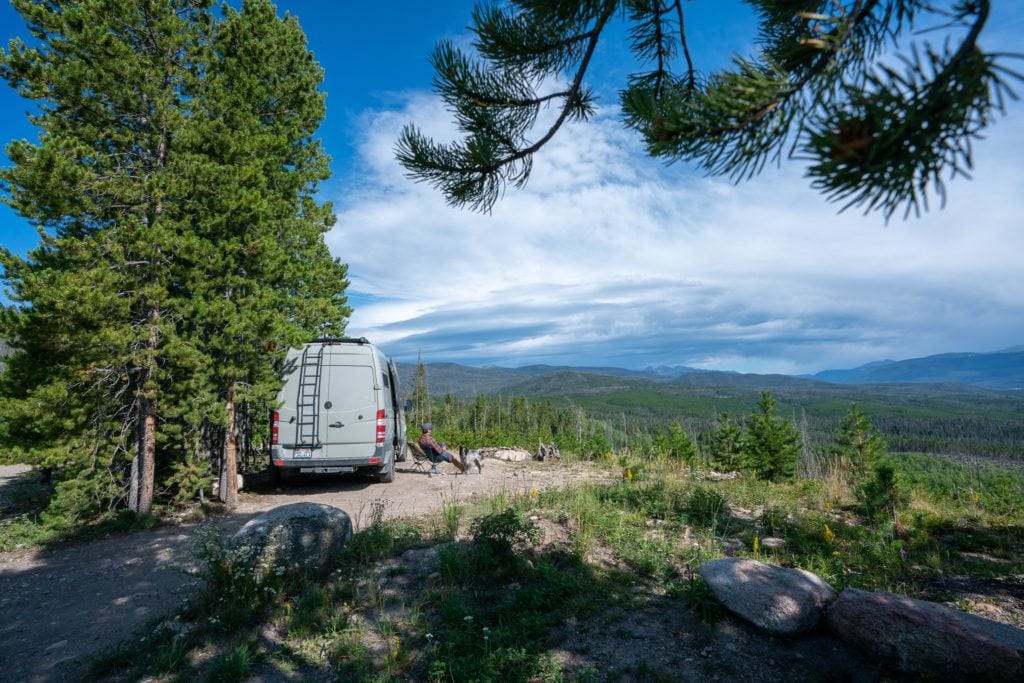 Tips for First Timers
You'll have to conserve your fresh water as well as gray water tank space. If you're going out there for a full two weeks, be aware of just how much water you're using and how. 
You can master the quick shower, we've got tips for that here. You can also try an outdoor solar shower, or bring along a portable waste tank that you can take to a dump station as necessary. Depending on where you camp, you might be near a truck stop or gym with public showers. 
Your gray tank will always fill first, so be mindful of that. Be sure you're going out with a full fresh tank and empty black and gray! Never empty your waste tanks on the ground or anywhere that isn't an allocated dump site. 
Gear and Tips
Keep your RV batteries charged and don't let them sit uncharged while boondocking. Some use a generator to help there, as well as power electronics and even power the A/C! Others go for solar, which is a lot quieter and can be pretty efficient itself. Only drawback? You're up the creek without a paddle if you only have overcast days. 

Go slow when you're leaving any paved roads and towing any size of trailer. Be sure you're taking care while driving that your RV will be able to take on dirt roads and rough terrain.

You likely won't have phone connections in more remote areas, so inform trusted friends or family where you'll be and when you plan to return.

Have bear spray handy at all times. With most Crown Land prime camping spots near the mountains, you'll be deep in bear country. And they aren't the only animals you can encounter, so make sure you know what you may encounter out there. 

If you plan on harvesting firewood you'll need the appropriate permit to do so, otherwise pack your own. 

You'll be far away from immediate help in the case of emergency, always have a full first aid kit on hand, check out our tips here

 and you wouldn't be remiss in taking a first aid class too!

Always be respectful of any other campers! You might be sharing a patch of land with total strangers, so try and be courteous when it comes to lights and noise. If you don't want to do that, go somewhere else. 
Remember you're going to be out there on your own, so make sure you're comfortable being totally self-sufficient and have the appropriate gear and plans to stay safe and have fun!